Director Dave Meyers Reveals The Meaning Behind Ariana Grande's New Video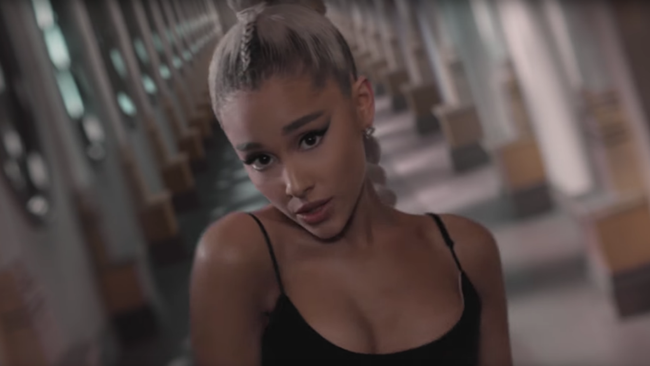 If you're curious about the production that went into making Ariana Grande's music video for "No Tears Left To Cry," which sees the pop star engulfed in various fantastical setups, then you're in luck as she's lifted the veil on the clip in a new behind-the-scenes featurette, which was released on Monday (April 23).
"No Tears Left To Cry" was directed by film veteran Dave Meyers, who explains to viewers in the featurette that the video is meant to hold a deeper meaning to pair with the Max Martin-produced track. "We wanted to explore was the disorientation that you go through in life, and the quest we all go through to find the ground again," he says in the video. "We sort of flirt with the ambiguity of if you need to find the ground, or if the ground is what you make of it, so the optimism of the song and her mixed with the sort of complexities and the disillusionment of the world that we put her in is going to be a special one."
Later in the montage, Grande offers fans a sneak peek of the logistics that went into the clip, which included movable sets that the pop star had to make her way around. For instance, the ladder scene required the singer put in some work as she hung off of beams and showcased the struggle to climb up the rotating prop.
You can expect Grande to perform her new hit as well as others when she takes to our 2018 iHeartRadio Wango Tango by AT&T, which will be hosted by Ryan Seacrest. The star-studded lineup also includes Shawn Mendes, Meghan Trainor, 5 Seconds of Summer, NF, Miguel, Janelle Monáe and Marshmello with a special guest performance by Logic, with more to be announced.The concert series will be the first to be held at the all-new Banc of California Stadium in Los Angeles on June 2.
The best part is, music fans from all over the US can watch it all go down via a live stream exclusively on ATT.com and Twitter. Wango Tango will also be broadcast live via iHeartMedia radio stations throughout the country across more than 150 markets. Finally, re-live the amazing summer kickoff by tuning into a 90-minute television special, exclusively on Freeform, on Sunday, June 3rd at 8 p.m. ET/PT.
Photo: YouTube/Ariana Grande